Let us plan your underwater adventures here in Malta and Gozo.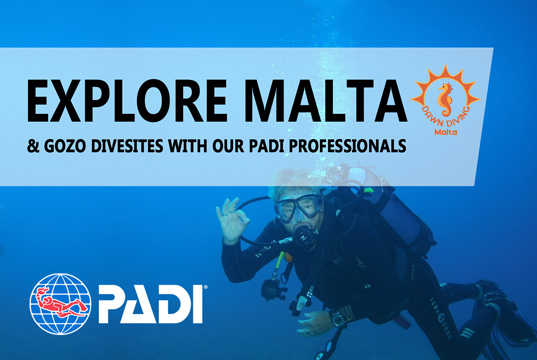 Should you wish to dive on Nitrox you must have completed the PADI Enriched Air Certification specialty course. You can do the Enriched Air Specialty Course (Nitrox) with as at Dawn Diving.

Nitrox will be charged as follows per fill: 12 ltr or 15 ltr (30%) - € 4
We would recommend doing at least one Gozo Trip and that would be an additional cost of €  25 per person per day. (min 2 people)
All the dives are shore entry – We can plan and book boat dives (min of 2 people) these are an additional €  35 per person per day.
Day    - The day starts at 8 AM at the Dive Shop and normally you will be back to the dive school about 2:30 - 3 PM each day.
Night - Meet at dive centre around 8 PM, kit up and head out to dive site.