Advanced Open Water Diver
This course can be taken after completing the PADI Open Water Diver certification.

It's titled PADI Advanced Open Water Diver, because it advances your diving knowledge & skills.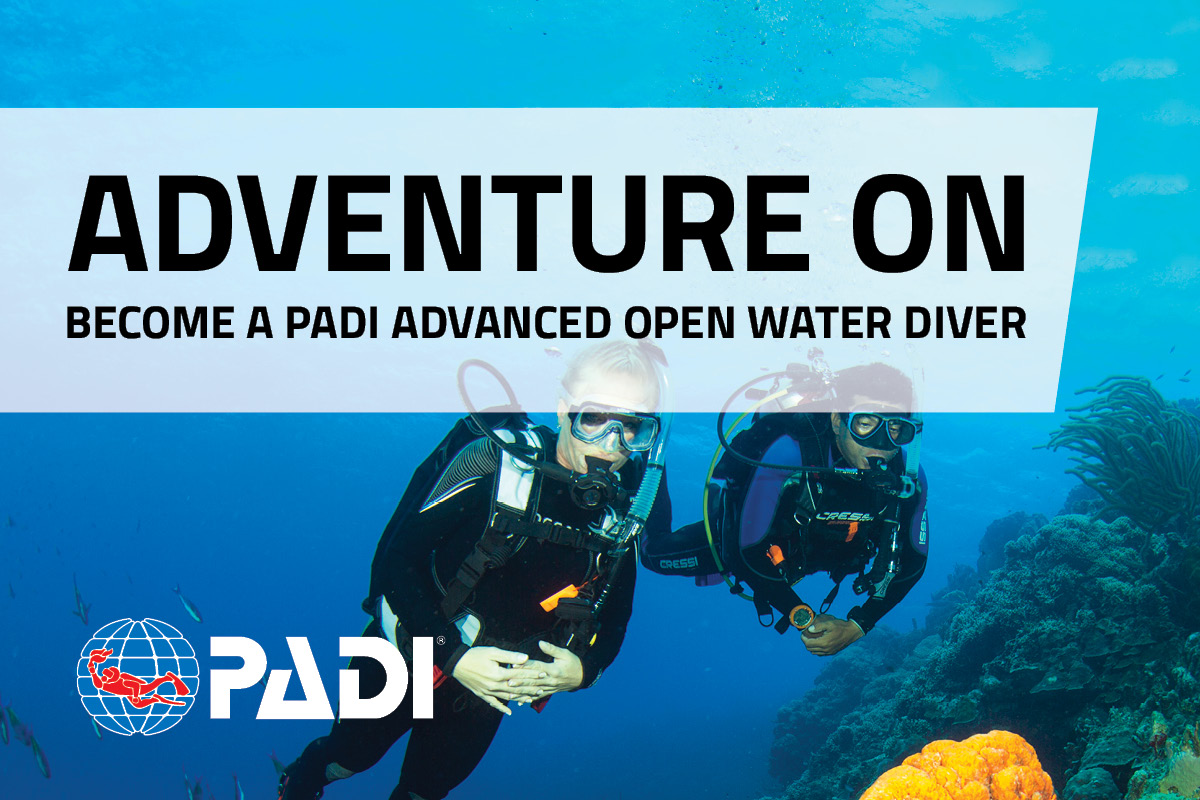 That's what the PADI Advanced Open Water Diver course is all about. You don't have to be "advanced" to take it – it's designed to advance your diving, so you can start right after earning your PADI Open Water Diver certification. The course helps build confidence and expand your scuba skills through different Adventure Dives. You try out different specialties while gaining experience under the supervision of your PADI Instructor. You log dives and develop capabilities as you find new ways to have fun scuba diving.

Get credit! Each Adventure Dive may credit toward the first dive of the corresponding PADI Specialty Diver Course. If you've already taken a specialty diver course, ask your instructor if you've earned credit for an Adventure Dive. PADI (Junior) Open Water Divers who are at least 12 years old are ready to step up and enroll in an Advanced Open Water Diver course. Young divers may only participate in certain Adventures Dives – check with your PADI Instructor. If you're already an Adventure Diver, you only need to complete two more Adventure Dives to earn the Advanced Open Water Diver certification.
You will have course work and knowledge reviews to do (Home Study). This is best done before you arrive in Malta by PADI eLearning, which means you spend less time in the dive centre learning and more time enjoying MALTA. You will have reading and have knowledge reviews to do for each dive and we will also review them before the dives to make sure you understand the theory. GREAT NEWS - there are no exams or quizzes for the Advanced Open Water Diver.
The PADI Advacned Open Water Diving Course is €285 per person for the course, all equipment rentals, transport to and from Dawn Diving centre to dive site and the PADI Open Water Diver certification. It takes 2 days to complete the course, they do not need to be consecutive days. ​ If you don't want to do the full course or don't have the time to do the full course then you can do Adventure Dives to start you advanced course. There is no time limit to complete the course.

Adventure Dives €43 per dive plus Equipment rental of €10 per day
2 Adventure dives plus Equipment Rental is €96 per day
3 Adventure dives plus Equipment Rental is €139 per day
You then pay your certification fee to the Instructor who does you 5th Adventure Dive (€50)
The eLearning costs €105. This is paid directly to Dawn Diving and we then enrol you with PADI who will then send you an access code to start your home learning on line. This includes course work and videos to watch. To enrol you each person will require to us the following details:
1. First Name, Middle Initial, Second (Family) Name e.g Rhona E. Potgieter
2. Dates of Birth (dd/mm/yyyy)
You have 5 dives to do : Navigation and Deep dives are compulsory dives. You then can decide on the other 3 adventure dives you wish to do from Wreck, Digital Underwater Photography, Fish Identification, Search and Recovery or Peak Performance Buoyancy. The Home Study must be done before you do the dives.
On successful completion of the course you will then be qualified to dive to a max depth of 30 meters anywhere in the world, for life.
The day starts at 8 AM at the Dive Shop and normally you will be back to the dive school about 2:30 - 3 PM each day.